YouTube Flash Grabber
Free program to download flash (FLV) and HTML5 (h.264) videos from YouTube to hard drive.
You can specify single or multiple URLs to YouTube web pages.
Just click 'Grab' button and after downloading you can watch your favorite YouTube videos offline.

Since version 2.0, YouTube Flash Grabber is able to grab HTML5 (h.264) YouTube video.

Download YouTube Flash Grabber


YouTube Flash Grabber
OS: Windows NT, 2000, XP, Vista, 7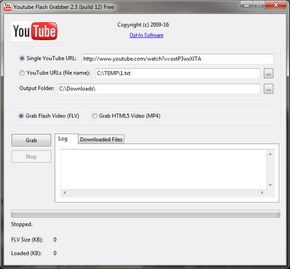 Email list management program.
List filtering tool.
Log files analyzer.
Multi-threaded proxy checking software.
Easy tool to generate list of IP addresses.
Web scraping tool.
Tool for upload images to the image hosting services.
Short links maker.
Tool for making thumbnail screenshots of web pages.
Simple mailer with support of randomization tags.
Command-line TCP/IP port redirector and proxy.
Simple command-line DNS Server.
Simple command-line SMTP receiver (without send).
Command-line tool to parse bounce emails.
Command-line tool that performs WHOIS lookup.